---
---
Am I a candidate for Dental implants?

---

Why choose DENTOLOGY for Dental Implants?

As a Comprehensive Dentist, Dr. Andrews is able to provide all phases, including restorative, for Dental Implant Treatments

at our convenient locations in Boston and Woburn MA.


Advanced Surgical Training and extensive experience in all fields of Dental Implantology, including Bone Grafting, Sinus Lifts and Multiple Dental Implants placements allows him to complete a surgical phase in one visit in 85% of all cases.

Cutting edge surgical protocol - use of platelet rich fibrin, or PRF d

ramatically reduces post-operative discomfort, shortens healing time, accelerates integration of implants and grafts and decreases chances for most complications.

---
---
When circumstances do allow, teeth replacement with dental implants could be done in two major visits.
This video features the surgical phase (the first visit) of the dental implant treatment.
Bio-mimetic, minimally invasive 1-hour tooth replacement surgery was performed by Dr. Anton Andrews.
Without any incisions, a broken tooth was removed, preserving the bone structure. An immediate dental implant was placed, along with a bone graft.
Platelet Rich Plasma (PRP), Platelet Rich Fibrin (PRF) packed with growth factors were utilized to reduce post -operative discomfort, swelling and to accelerate the healing.
Call to schedule a FREE Dental Implant Exam before your teeth are extracted 617-261-6440.


---
$2999* Dental Implant Special in Boston and Woburn MA. This special can be withdrawn without notice

What does an Implant Offer include?
A Dental Implant Special at DENTOLOGY in Boston, Cambridge, Brookline, Winchester and Woburn MA, includes the surgical placement of a Dental Implant, the Implant abutment (prefabricated), and the All-ceramic Implant Crown Only for a single tooth. If other treatments are needed such as: extractions, bone graft, sinus lift, and temporary teeth - there will be additional charges.
Call for your Free Dental Exam and X-ray in Boston and Woburn MA (617)216-6440.
*Does not apply to front upper teeth implants (Teeth #6, 7, 8, 9,10,11)

---
---
Compare Dr. Andrews to other implant dentists/specialists
---
Other Dentists

---

do not place implants immediately after extractions. They wait 4-6 months and their patients loose bone volume (width). Then they use small diameter implants
(4-5 mm diameter) to replace molar teeth. As a result of inadequate load from chewing, clenching and grinding, implant fatigues and fractures. Other dentists' patients have to go through 3-4 surgeries to replace their failing teeth with dental implants.


---

| | |
| --- | --- |
| | Dealing with narrow bone ridges, other dentists do not know how to create enough bone width for wide molar implants. And they place whatever they able to such as small diameter implants on the molar site. Narrow implants cause the bone loss (white line) over time and ultimately fracture (red line). |

---

Old techniques and outdated technologies

---

---

An estimated 99.9% of dentists still use intra-oral impressions and stone models to restore and design teeth and dental implants. This old school technique yields 40 micron precision (0.0016 inch) at its best.
Most dentist send their implant cases to dental laboratories for fabrication. They rely on dental technicians to make implant crowns and bridges. This dependency on technicians causes other dentists to loose control over design, materials, and quality of the final restorations.
Unfortunately, 95% of dental technicians simply do not have the appropriate training in dentistry. This could result in inadequately contoured crowns, poorly fitting implant restorations, inability to obtain aesthetic appeal with high performance function, and potentially causing failure of implants.



---

Dr. Anton G Andrews

---

places Implants Immediately after extracting teeth, because the bone width is the widest around the teeth. Dr. Andrews uses no less than 6-7 mm wide implant diameter for molars. As a result his implants are much stronger and NEVER fracture.
DENTOLOGY patients have only one surgery to replace their failing teeth with dental implants.

---

| | |
| --- | --- |
| | Dr. Andrews uses advanced bone grafting techniques to create bone where he needs it for wide diameter implants. His wide molar implants do not loose bone over time and NEVER fracture. Dr. Andrews completed this case with only ONE surgery. |

---

Advanced Dental CAD-CAM Technologies

---

---





Dr. Andrews is one of the most advanced CAD/CAM dentists in the world. He uses an advance intraoral digital 3D scanning technology with 10-micron precision (0.0004 inch) instead of old school impressions which produces a perfect replica for tooth restoration and implant placements.
All of his implant restorations are made model-less while utilizing Virtual Prosthodontics.
Designing all cases himself, Dr. Andrews retains 100% control over shape,proportions,emergence profile, materials and shade of dental restorations.
All cases are finished and quality check at DENTOLOGY in-house dental lab under direct doctor's supervision.



---
---
---
Alexander S.
"I lost one tooth a long while ago. Recently tooth next to the missing one cracked and became irreparable Before he started the procedure, Dr. Andrews clearly explained how it would be done. In one visit Dr. Andrews extracted damaged tooth, inserted two implants, and performed a procedure to increase thickness of the my jaw bone. No pain during the procedure, virtually no pain afterward. The entire process was completed in six months. Excellent job by Dr Andrews. I highly recommend him for all your dental needs."
---
---
If you are missing a single tooth, you might be a candidate for a dental implant. It is a treatment-of-choice to replace a tooth.

Thanks to the latest advancements in Dental Implantology, Dr. Andrews is able to treat these cases with great success. If your tooth was extracted more than 4 months ago, then most likely you have bone loss around the extraction site. A

Bone graft

might be needed to replace a missing bone volume for successful implant integration and a good long-term prognosis of the implant crown.

Hence, the best time to schedule your

Free Dental Implant Consultation

with Dr. Andrews is

BEFORE

your tooth is extracted. This approach will minimize the treatment time, the treatment cost, and will ensure the best prognosis for future restorations.

All procedures are done by Dr. Andrews at our offices in

Boston and Woburn MA

.
---
Replacing a single back tooth with dental implant in Boston
---
| | |
| --- | --- |
| | Under ideal conditions, replacing posterior (back) teeth with dental implants is a straightforward process.As an experienced Dental Implantologist, Dr. Andrews recommends to start planning for a tooth replacement with a dental implant before the tooth is extracted. The reason is simple - the bone is widest around natural roots of the teeth. Without appropriate planning after an extraction, around 50% of the bone volume is lost within 4-6 months, usually in horizontal dimension. If there is not enough bone, it has to be added with a procedure called bone graft (augmentation). In addition, natural teeth and supporting tissues near where the implant will be placed must be healthy.The shortest treatment time for a complete implant (including surgeries and placing the permanent crown) is about five months in the lower jaw and six months in the upper jaw. However, the process can last up to a year or more, particularly if bone needs to be built up first. In 85% of his cases, Dr. Andrews is able to extract the tooth, place the bone graft (if necessary) and place an implant at the same time. |
---
Case 4. Single tooth replacement with the dental implant

This patient came to see Dr. Andrews in our Boston Dental Practice with the desire to replace her missing lower left molar (#19). Since the extraction was done more than a year prior to the visit, more than 50% of the bone volume was lost.
Being the second biggest tooth in the mouth, a lower molar requires a strong foundation to be built on. Studies confirmed, that for long-term success, an implant diameter for such case should be no less than 5 mm. With only 3 mm width of the bone available here, no implant can be placed without a bone graft. The classic (old) treatment planning dictates the two-stage approach. The bone graft (ridge augmentation) is done first. After 4-5 months, when the bony ridge is wide enough (10-12 mm), an implant is placed. Then another 5-6 months are required for the implant to integrate with the bone. Add another month to make a crown. Thus, the total treatment time is 10-12 months.
Using modern , advanced surgical techniques, combined with PRF protocol, Dr. Andrews was able to combine bone graft with the simultaneous implant placement. He augmented the bone ridge wide enough to place 7 mm implant diameter. That is 200% more implant-to-bone surface area compared to a 5 mm one. Such a strong foundation should be able to support the implant crown for the entire patient's life.
This case took Dr. Andrews 5 months to complete, with only one surgery .
---
Replacing a Front Tooth with the Dental Implant in Boston*
---
One of the biggest challenges in Dental Implantology is the replacement of the upper central incisor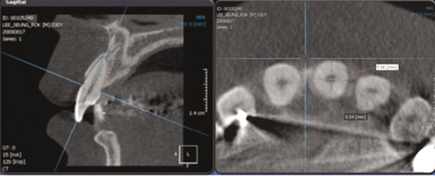 These
normal
CT-scan cross sections of the front upper teeth demonstrate normal anatomical features, which make the job of the dental implantologist very difficult.
paper-thin alveolar bone around the roots of the teeth
angulated 15-20 degree long axis of the tooth
Long anatomical crown (increased lateral load on the future implant compared to the back teeth)
4-5 mm overbite (overlap with the lower teeth)
---
Besides the surgical challenges, there are also the cosmetic ones.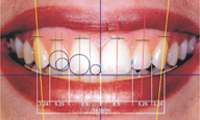 Upper central incisors anatomy makes up to 85% of the smile.

Mid-line Symmetry - Dr. Andrews has to make a new implant crown to match another tooth in shape, texture, volume, shade, translucency etc.
Gingival (gum) contours, including a gingival zenith and the papilla (black triangles management)
High smile line - When you smile and some of the gum is shown above the teeth.
---
And finally, adding to the picture and always the case. Few reasons that make someone look for a front tooth replacement:
Trauma
Infection (abscess)
Broken/failed crown
Root fracture
Root canal failure
Congenitally missing tooth
---
Free Dental implant Exam with Estimate

---

30 y.o. graduate student came to our DENTOLOGY practice in Boston Seaport with a broken upper front tooth.
Dr.Andrews recommended to replace it with a dental implant.
Due to high smile line and anatomy of the area , this type of cases considered to be one of the most challenging for a dentist to treat.
Without any incisions,the broken root was removed and an implant was placed along with a bone graft during the same surgery.
Immediately, a Temporary tooth crown was attached to two other front upper teeth to form the ideal shape for the soft tissue profile. Few months later, 3D intraoral scan was acquired. Full Contour Zirconia (FCZ) screw-retained Implant crown was designed by Dr. Andrews utilizing Virtual Prosthodontics (CAD) and Reverse Restorative Rehabilitation Protocol.
Then the crown was milled (CAM) and sintered by a specialized Milling Center. Once it had been received, the FCZ restoration had been custom shaded and glazed at the DENTOLOGY in-house lab.During the followed patient's visit the final all-ceramic crown was delivered via screw-retained fashion to prevent any complications associated with cement retention under the gum margin.(the most common reason for implant failures in intraorally cemented cases) .


---
*Due to nature of front tooth replacement, the average cost for a front tooth dental implant with bone grafting is $6200.
---
Why choose DENTOLOGY for Dental Implants?

---
---
---
---