Call 617-261-6440 for your TMD/TMJ Consultation with Dr. Andrews, If you suffer from the following: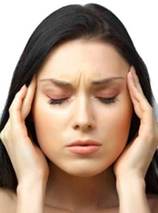 ---
Headache Trigger Points

---

Headaches and Migraines Treatment in Boston MA.

Over 29 million Americans suffer from headaches and migraines. The NTI Custom Dental Night Guard is indicated for headache and migraine prevention. It is a small night guard that comfortably fits over your four front teeth. Its patented design keeps your canine and back teeth apart. This separation minimizes the intensity of your nighttime clenching forces.
To demonstrate how the NTI works, touch the muscles of the temples while biting down on a pencil with the back teeth as hard as possible. The temporal muscles will bulge and intensely contract. Now bite down on a pencil with only the front teeth. Those same temporal muscles remain relaxed. This diminished clenching intensity prevents a hyperactive nerve response, and thus, prevents migraines. NTI night guard relaxes head and neck muscles, prevents muscle spasm, decreases lactic acid build-up in muscles and prevents trigger points (TrP) formation, thus preventing tension headaches and facial pain syndrome.
Another advantage of the doctor's prescribed night guard is chewing muscles reprogramming.
When NTI custom night guard is worn, due to its advanced design features, it unlocks the habitual bite and allows free movements of the lower jaw. Thus, the better "muscles-friendly" optimal position of the lower jaw is established.
Since the NTI night guard is a custom made appliance, it can also work as an orthodontic retainer, preventing teeth shifting after the orthodontic or INVISALIGN treatment.


---
---
---

Temporo-Mandibular Joint - TMJ

Custom Dental Night Guard (NG) Boston MA.

It has been estimated that around 90% of the adult population suffer from various forms of an "OCCLUSAL DISORDER" TMD (GRINDING AND/OR CLENCHING). Normally, during chewing, muscles of mastication squeeze your jaws with 30-50 pounds of pressure per square inch. But when someone clenches or grinds teeth at night the pressure jumps up to 1000 pounds/square inch. Nocturnal bruxism can destroy otherwise healthy dentition, creating cracks, shortening the teeth due to wear and ultimately - breaking teeth. The most common symptoms are: Sensitivity to cold, hot and sour; Morning muscles stiffness; pain, cracking and dislocation of the joints of the lower jaw (TMJ), ear pain, headaches, migraine etc. The latest research data show that as much as 70% of the headaches and migraines are caused by grinding and clenching (TMD). The first line of defense for the patients who suffers from occlusal disorder will be fabrication of the custom NIGHT GUARD. This relatively inexpensive appliance will save your teeth from destructive force of the muscles, will increase longevity of the fillings, crowns, bridges and dental implants. Also it will improve your sleep and will prevent traumatic injury to the jaw's joints (TMJ). Dr. Andrews uses advanced design (NTI) for his NIGHT GUARD (NG) prescriptions. In most cases it is a small, hard appliance placed on the four lower front teeth at night. Fabrication process usually takes 2 weeks, consists of two 30-minute visits.
If you think that you might suffer from occlusal disorder, call DENTOLOGY at (617) 261-6440 for your Night Guard Consultation with Dr. Andrews.

*Please note: Dr. Andrews certifies that NTI Night Guard does not contain Bisphenol-A

---
---
Cosmetic and Implant Dentistry in Greater Boston Massachusetts | Anton G. Andrews, DMD
DENTOLOGY BOSTON MA | 330 Congress Street Boston MA 02210 | Phone (617)261-6440 | e-mail: 330Congress@dentologyboston.com
DENTOLOGY WOBURN MA | 444 Washington Street, Suite 301 Woburn MA 01801 | (P) (781)995-4944 | e-mail: 444Woburn@dentologyboston.com

---